I'm going to do couple of "making of"-posts about the illustrations of Talvikuningas. I put three illustrations (of 13) to my portfolio, and here's one of them. It's called "Pretoriaanikyborgit", and it is the third track of the album.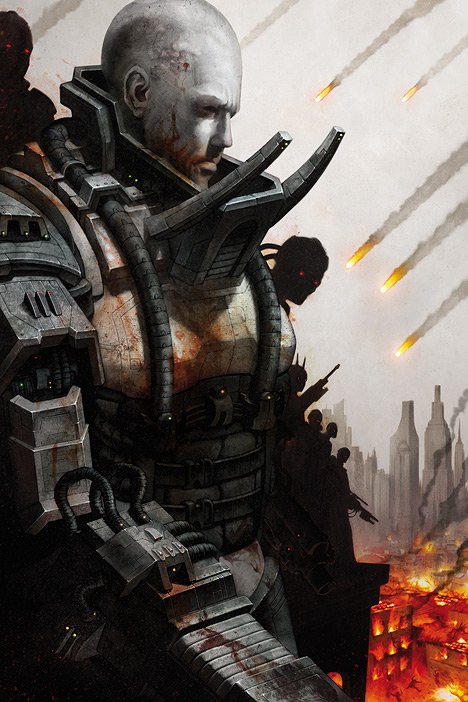 I'll put here some versions of the work process, starting from the early illustrations. (For those who don't know, Talvikuningas is a theme album by a Finnish rock band CMX, with a science fiction story written by the lead singer & bass player A.W.Yrjänä.) At first I got the lyrics and then I made some sketches, this is one of them. (The other sketches were similar, only in different format because I didn't know at that time what the format of the illustrations.)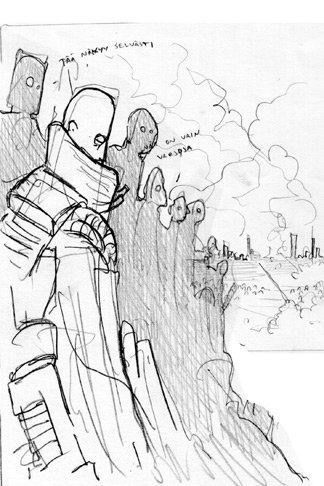 My client (the band and the record company) accepted the illustration and then I started to do a more detailed sketch over the rough one.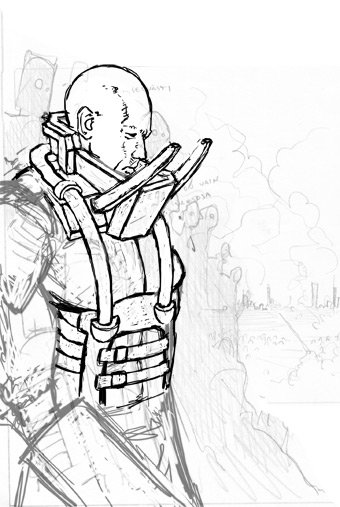 At that time I wanted the character to look a bit kinky. I planned to colour it the way that it looked almost that he's wearing lady's underwear, a corset and a bra. Later I skipped this.
Then I again added more detailed and thinner outlines on a new layer. I also added some photos & stuff to the background, to help me to finish the sketch and as something to work from.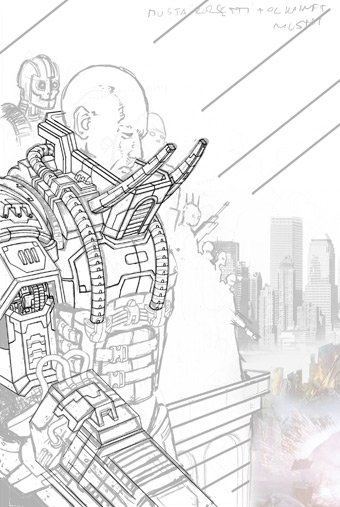 I did this picture with the same method as so many other of my pictures. I don't have a clear image of the final result in my head, but I have a very clear FEELING how it should look like. But I'm not sure how to get it so I just start doing it. I think I should do more sketches and more detailed sketches beforehand. Many times I have the same kind of problem as in this picture. When it's almost finished I realise that this isn't exactly what I'm looking for and I dont't get it right away what's wrong. Then I have to try to change the almost complete work (wich of course may be pretty hard) or do some parts of it again.
I had also had an image in my head how the main character should feel. I saw this old war movie "Sink the Bismarck!" and it had a super nasty nazi-villain it it, the captain of the battleship Bismarck. The actor's facial expressions were just pure evil. I don't know this for sure but I think it's possible that that the Emperor of the original Star Wars trilogy might be somehow based on this character! The Emperor has very similar facial expression and also very similar looking form of the face.
Here's the captain, a very bad man, and obviously proud of it!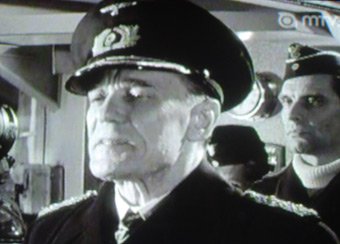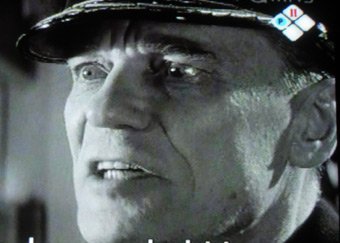 When the picture was almost final I had two versions of the main character (I don't have the files anymore), a face with an evil nazi grin, and this basic version. At that time I had chosen the version with the grin but now I'm very glad that my client did not like it. The author wanted this character to be just a working man, like he's just standing there after a hard day's work. He doesn't have to enjoy his work more than a normal salaryman. This was definitely the right decision.
But let's get back to the sketches. I started coloring the thing and add more details to the background.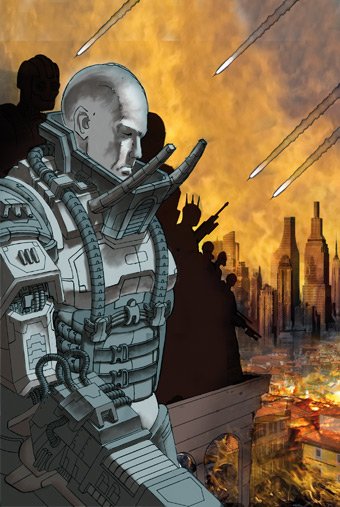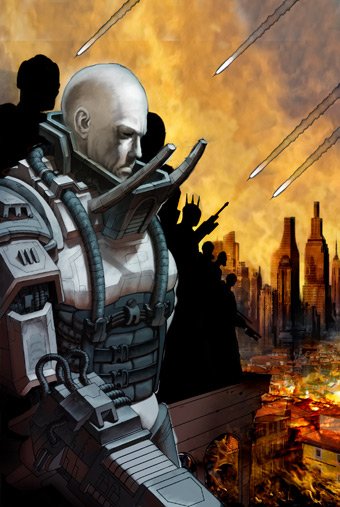 I changed the background color to a bit more gray and finished the burning city.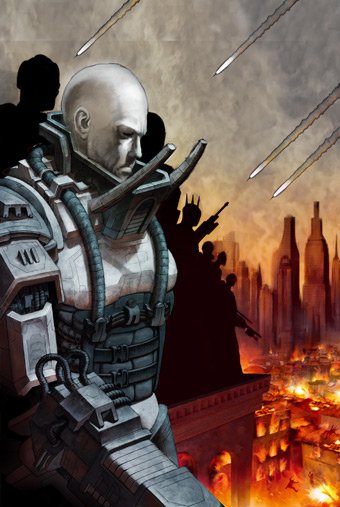 I thought about when I was a kid how much I liked Boris Vallejo's cover art illustration for Ozzy Osbournes "Ultimate Sin", and the little painted people suffering in hellfire under Ozzy-fly! So I wanted to do a few little people for the city. Here's a detail of the final version.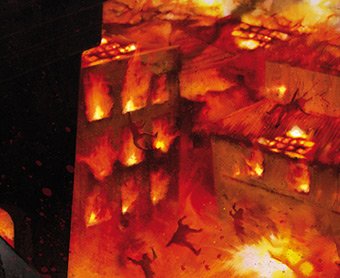 The picture started to have an evening atmosphere in it. I wasn't sure I liked it. It somehow looked too romantic.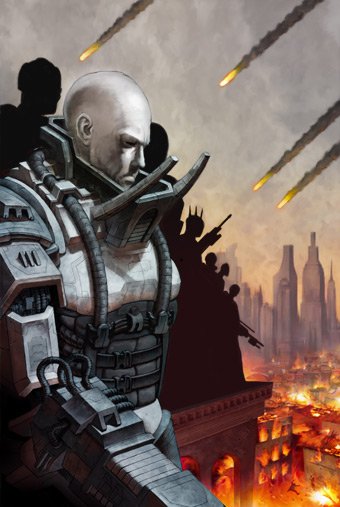 So I took away more colors.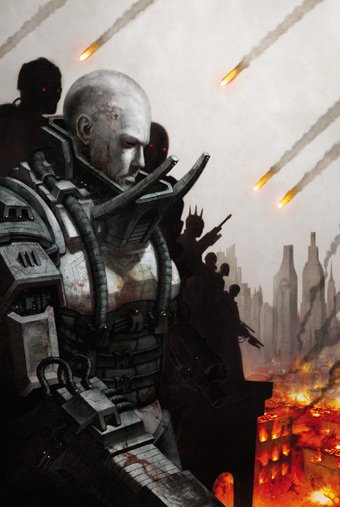 But now I didn't like the composition anymore. I made a few changes.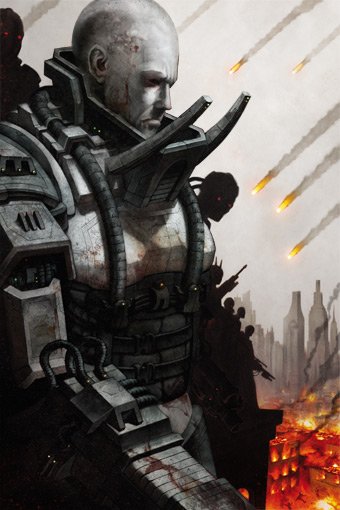 Now it was almost finished but still it didn't have the right feel to it. So I added some blood to the character! Then it turned out be ready and finished. Blood and dirt always helps! Now the character had the feel of cruelty I wanted it to have, but without any stupid exaggeration.